DAZZLING LANTERNS, METAL CRAFTS, AND MIRRORS IN PAMPANGA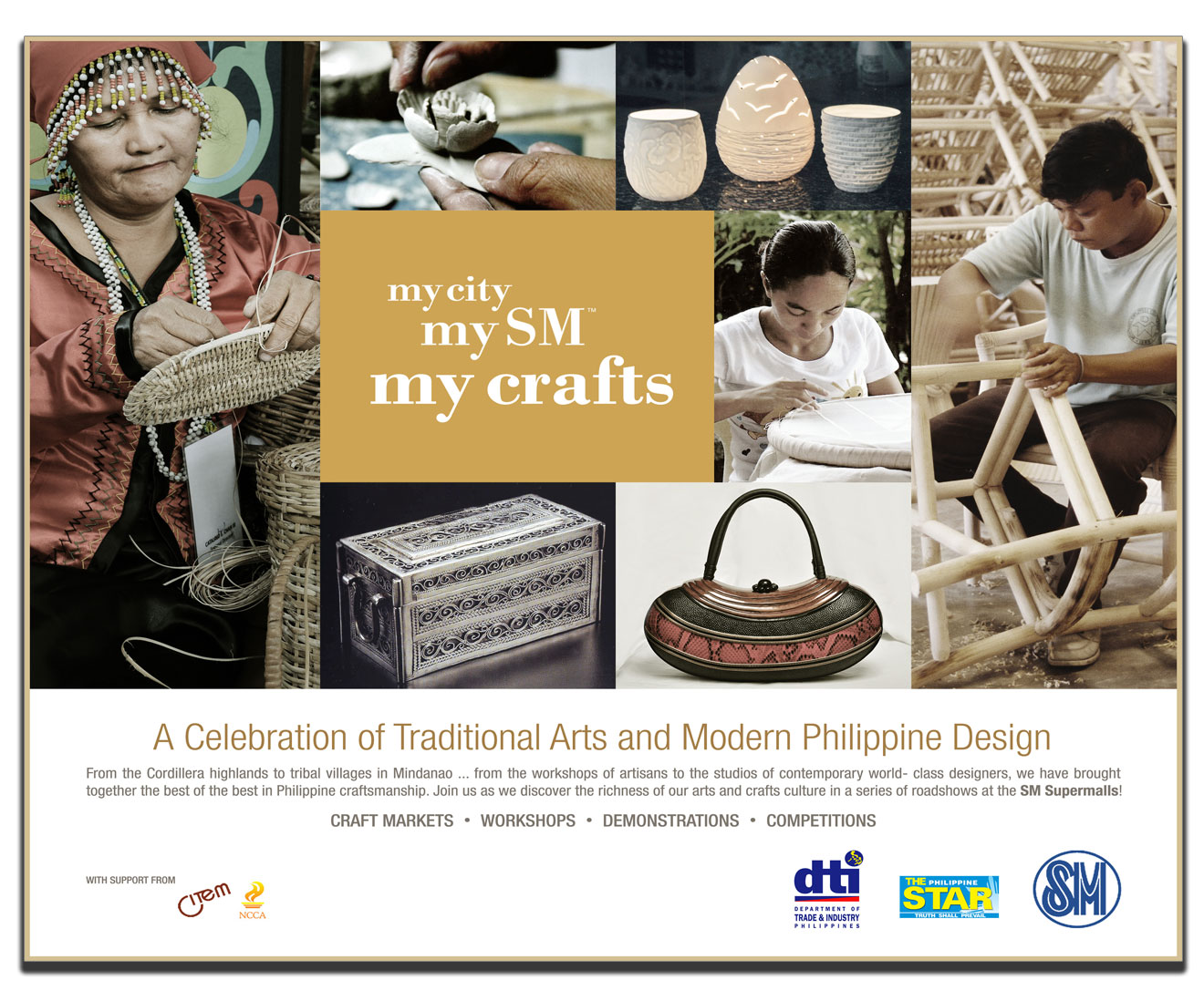 Before the arrival of the Spaniards in the 16th century, the Kapampangan people were known to be traders and explorers who traded with China.
With that, we can see that early on, Kapampangans were known for their business acumen and ingenuity, as well as an innate sense of artistry. With this rare combination, it is not surprising that today; Pampanga's craft culture is vibrant and innovative. Pampanga's provincial seal, Viva Pampanga, Sharing the Best says it all.
Kapampangan artisans are also highly skilled and educated, giving rise to the world class woodcraft, ceramics, metal crafting, furniture making, Christmas décor, and of course, the Christmas lanterns they have been known for.
Mallgoers recently had a glimpse of crafts from Pampanga when My City, My SM, My Crafts recently made its ninth stop at SM City Pampanga. A joint project of SM, DTI's Bureau of Domestic Trade, and the Philippine Star with support from CITEM and the National Commission for Culture and the Arts, it is a celebration of traditional arts and modern Philippine design in the cities where SM has malls.
No less than the City of San Fernando Vice Mayor Jimmy Lazatin and Guagua Mayor Dante Torres graced the event, together with DTI Provincial Director Elenita Ordono and PhilExport Excecutive Director Malou Balano graced the event. SM officials led by SM Vice President for Marketing Millie Dizon, SM Supermalls VP for Operations Bien Mateo, Regional Operations Manager of North Luzon Rheybie Nipas, SM City San Fernando Downtown's Mall Manager Lana Erroba, as well as SM City Pampanga Mall Manager Junias Eusebio, and Assistant Mall Managers Ana Liza Carino and Mark Carlo Herrera gave the guests a warm welcome.
The event also honored three great Kapampangan artisans and artistes, who have given great honor to our country through their world class works. These included National Living Treasure Eduardo Mutuc, a Kapampangan artist who dedicated his life to creating religious and secular art in silver, wood, and bronze. His exquisite retablos, mirrors, altars, and carosas are in churches and private collections.
Willy Layug, Presidential Merit in Ecclesiastical Art, who is known for his intricately carved woodwork, and Cannes Film Festival Best Director 2009 Brillante Mendoza were also honored during the event. It was a happy coincidence that Director Mendoza produced a film about Willy Layug, Dukit, for the Metro Manila Film Festival's New Wave Section. Directed by Armando Lao, the film went on to win the Best Picture and Best Actor awards in the New Wave Category.
Guests enjoyed the program, which included a video presentation featuring the crafts of Pampanga with April de los Santos, who shared her deep passion for culture and the arts as the video's tour guide.
The highlight of the event was the Lantern Parade, which gave mallgoers a rare glimpse of the evolution of the parol by master lantern maker Rolando Quiambao. Francisco Estanislao pioneered the lantern making industry in San Fernando in 1908, making the first parol as a five- point star lighted by a candle or carbide lamp. And San Fernando today is known for its Giant Lantern Festival where beautiful parols dazzle with lights and music.
One of the program highlights was the awarding of the winner of the Wood Carving contest with workshop participants making their own wooden creations. Edwin Layug got the judges' nod for the top prize, for which he received P5,000 worth of gift certificates.
Judges included DTI Provincial Director Elenita Ordonio, Kapampangan Photographer Ruston Banal, and the Philippine Star's SVP for Sales and Marketing Lucien Dy Tioco.
But the My City, My SM, My Crafts centerpiece was clearly the Craft Market inspired by the traditional Bahay na Bato in Luzon. This beautifully designed showcase was a treasure trove of the best of the best crafts in the province, and was an instant hit among SM City Pampanga shoppers.
The Craft Market showcased Kapampangan world- class artistry, with Pampanga One by the Chamber of Furniture Industries of the Philippines taking the lead in showing how borders are boundless.
Shoppers were awed with Venetian style mirrors from Ellen's House of Frames and Crafts, exquisite metal craft from La Classic and Designs, terracotta décor from L and G Ceramics, and amazing items fashioned from lahar by Disenyong Pinatubo.
Intricately designed furniture from Philiana Design, Country Accents, Inc., Dale Mathis Studio, Inc., Mallari's Nursery Furniture, and Chrislai Enterprises also brought great pride to Kapampangans.
Christmas ornaments fashioned from corn husk by Negotech, Santas of all sizes by Tas Decors, and beautiful lanterns from RolRen's Lantern and General Merchandise brought the holiday spirit to the event.
My City, My SM, My Crafts is a take-off from the previous My City, My SM campaign, which promotes tourism, and My City, My SM, My Cuisine, which highlights the culinary specialties in cities were SM has malls. A celebration of traditional arts and modern Philippine design, it aims to showcase the best of the best Philippine crafts in each host city, providing livelihood opportunities, as well as a platform for cultural exchange.
The Pampanga launch is the ninth in the My City, My SM, My Crafts road show after SM City Santa Rosa, SM City Lucena, SM City Batangas, SM City Davao, SM City Naga, SM City Cagayan de Oro, SM City Marilao, and SM City Taytay. The next stop will be in SM City Iloilo.