CELEBRATING NARDA'S AND CORDILLERA CRAFTSMANSHIP IN BAGUIO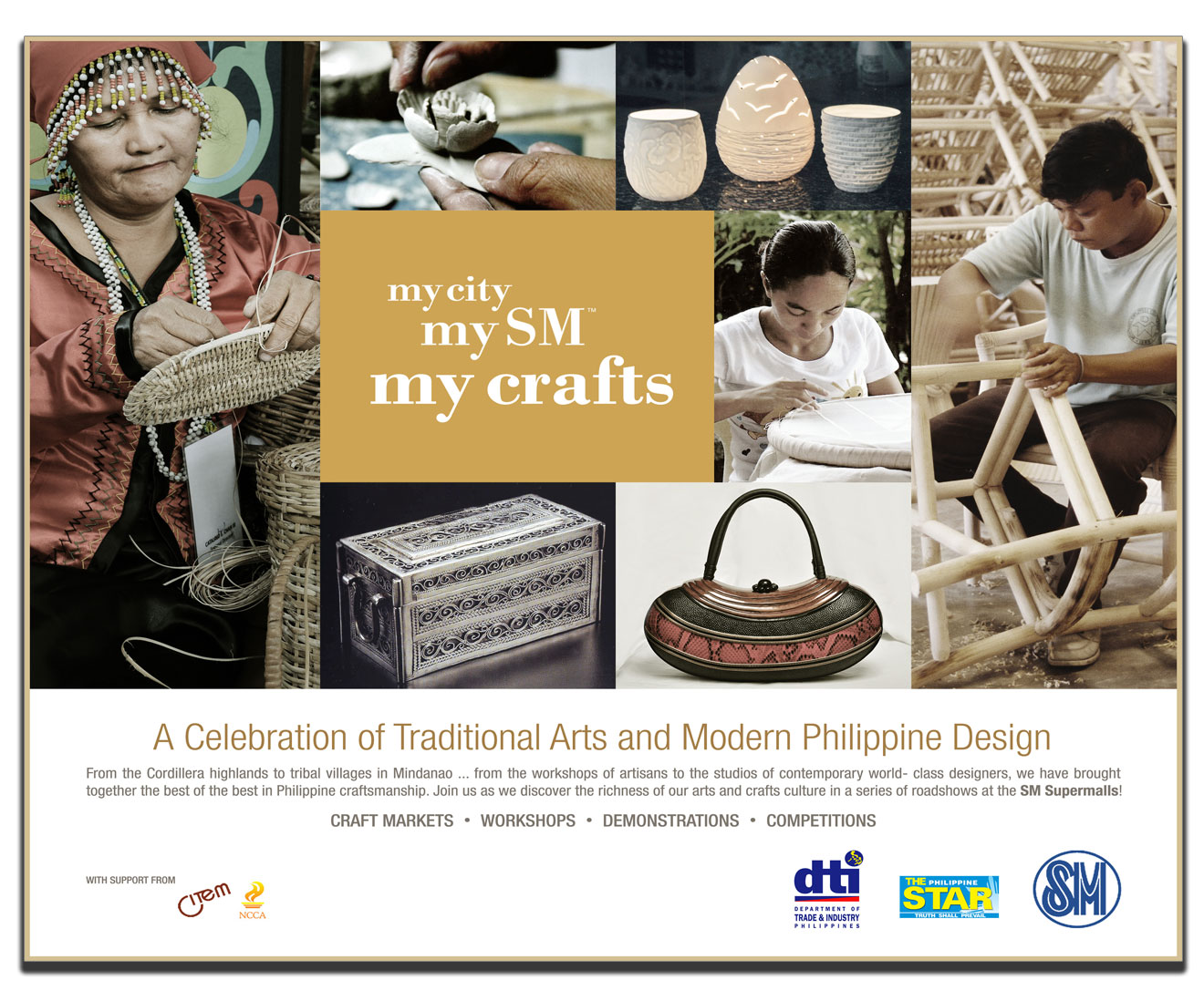 The crafts of the Cordilleras – which consists of the City of Baguio as well as the provinces of Benguet, Apayao, Kalinga, Abra, the Mountain Province, and Ifugao – are rooted in the rich cultural tradition of its indigenous people.
The Americans, who established Baguio as the Summer Capital of the Philippines, honed these skills when they started a trade school now known as St. Louis University. It was here where home industries like hat making, weaving, handicrafts, and silversmithing were taught as part of the curriculum for industrial arts.
As Baguio became known as a top tourist destination, these crafts became must-have souvenir items popular with both local and foreign tourists. In more recent years, modern artisans have transformed these traditional crafts – weaving, wood carving, and silversmithing – into wonderful world-class pieces that have made us truly proud to be Filipino.
Mallgoers recently had a glimpse of crafts from the Cordilleras, as well as the rare opportunity to meet its master craftsmen up close when My City, My SM, My Crafts recently made its twelfth stop at SM City Baguio. A joint project of SM, DTI's Bureau of Domestic Trade, and the Philippine Star with support from CITEM and the National Commission for Culture and the Arts, it is a celebration of traditional arts and modern Philippine design in the cities where SM has malls.
No less than the Baguio City Mayor Mauricio G. Domogan graced the event together with City Councilors Betty Lourdes Tabanda, Elaine Sebrano, and Elmer Datuin. DTI Regional Director Myrna Pablo also attended the event together with City Tourism Officer Benedicto Alahambra. SM officials led by SM Vice President for Marketing Millie Dizon and SM Supermalls Regional Operations Manager NL 1 Cesar Bondoc and Mall Manager Marc Janssen Pe gave the guests a warm welcome.
The event also honored Ms. Narda Capuyan, whose Narda's Collection revived a Cordillera tradition of weaving ikat and brought it to the international stage.
Ikat is a very old tradition of tying and dyeing segments of threads before actual weaving. Narda, together with her husband Wilson, designed and dyed threads in vibrant colors to suit contemporary tastes, creating new ikat weaves in placemats, shawls, and bags, which became a hit with foreign buyers.
The products were given a big break in 1982 when Bloomingdale's Department Store in New York featured Narda's products and brought her to Japan, Europe, and Canada. Neiman Marcus, Lord and Taylor, Marshall Fields in the US, and Hudson's Bay in Canada were some of her initial buyers. And she continues to proudly showcase her wonderful weaves in the global stage.
Ms. Capuyan has won numerous citations for her work– the Outstanding Countryside Investor Award by the later President Corazon Aquino in 1989, the Baguio Builders Award by the City of Baguio during its Centennial Celebration, and the Ernst & Young Small Business Entrepreneur of the Year Award in October 2013.
Guests enjoyed the program, which included a video presentation featuring the crafts of Baguio and the Cordilleras with former Bb. Pilipinas Universe 1977 Ana Lorraine Kier-Tabora as the video's tour guide.
Highlights of the event was a fashion show showcasing Narda's wonderful weaves, as well as the awarding of the winner of the Wood Carving contest with workshop participants making their own exquisite creations. Joemax Cayong got the judges' nod for the top prize, for which he received P5,000 worth of gift certificates.
Judges included DTI CAR Regional Director Myrna Pablo and City Councilors Elaine Sembrano and Elmer Datuin.
But the My City, My SM, My Crafts centerpiece was clearly the Craft Market inspired by the traditional Bahay na Bato in Luzon . This beautifully designed showcase was a treasure trove of the best of the best crafts in the province, and was an instant hit among SM City Baguio shoppers.
The Craft Market showcased traditional arts and world-class craftsmanship from the Cordillera: woven wonders from Narda's and Easter Weaving School; exquisite jewelry pieces of Ibay's Silvershop and the PNKY Creation; woodwork from Ron and Mar Woodcraft and the Asin Bamboo Carver's Guild, Inc; and handcrafted home décor from Philippine Treasures.
My City, My SM, My Crafts is a take-off from the previous My City, My SM campaign, which promotes tourism, and My City, My SM, My Cuisine, which highlights the culinary specialties in cities were SM has malls. A celebration of traditional arts and modern Philippine design, it aims to showcase the best of the best Philippine crafts in each host city, providing livelihood opportunities, as well as a platform for cultural exchange.
The Baguio launch is the twelfth in the My City, My SM, My Crafts road show after SM City Santa Rosa, SM City Lucena, SM City Batangas, SM City Davao, SM City Naga, SM City Cagayan de Oro, SM City Marilao, SM City Dasmariñas, SM SM City Taytay, SM City Pampanga, and SM City Iloilo. The next stop will be in SM City Cebu.