ARTISAN POTTERY, COCO DÉCOR, AND KIPING IN LUCENA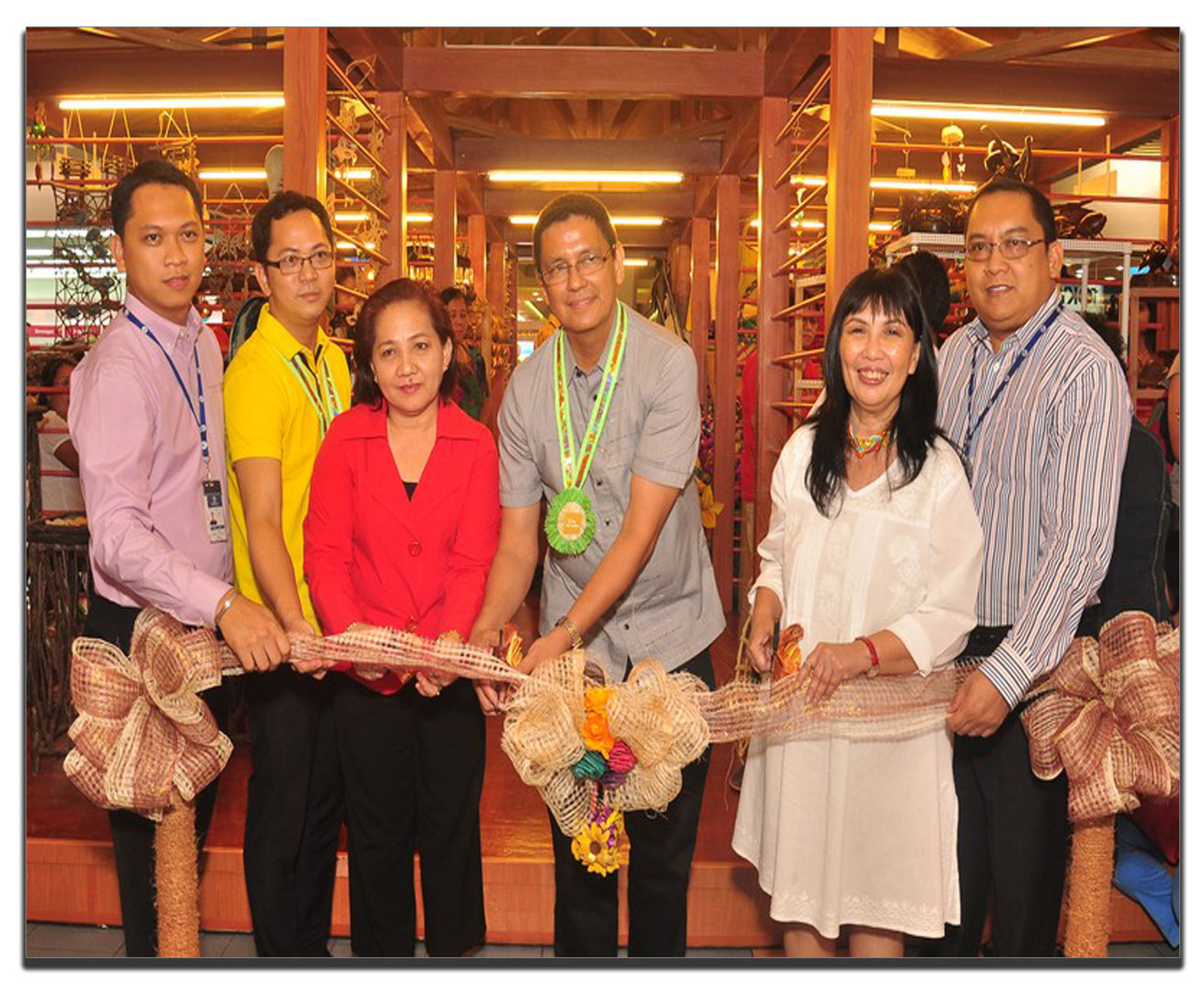 Quezonians are known as among the happiest Filipinos who celebrate festivals all year round – from the Tagkawayan Day on January 1 to Sariraya's Belen Festival in December.
They are also very creative people who celebrate the rich products of their land – coconuts, rice, and bananas- by transforming these into world- class products.
From buli weaving in Mauban and Sariraya to coconut inspired crafts in Candelaria to kiping souvenirs in Lucban to driftwood sculptures in Lucena to Ugo Bigyan's artisan pottery in Tiaong, Quezon is a treasure tove of some of the most amazing products.
This is what mallgoers discovered when My City, My SM, My Crafts recently made its first stop at SM City Lucena. A joint project of SM, DTI's Bureau of Domestic Trade, and the Philippine Star with support from CITEM, it is a celebration of traditional arts and modern Philippine design in the cities where SM has malls.
Quezon Provincial Tourism Head Alberto "Jun" Bay, DTI Welfare Division Chief Leila Cabrebros, and Lucena City Administrator Anacleto "Jun" Alcala graced the event as did world renowned beauty expert and My City, My SM honoree James Cooper, indie film director Felino Tanada, Koffee Katch's Milada Dealo-Valde, and the Philippine Star's Grace Laurel graced the launch.
SM officials led by SM Vice President for Marketing Millie Dizon, as well as SM Supermalls Regional Operations Manager Cid Luis Victoria, SM City Lucena Mall Manager Maricel Alquiros and Assistant Mall Manager Russel Alegre gave guests a warm welcome.
They enjoyed the program, which included a video presentation featuring the crafts of Laguna with James as the guide, and a fashion show featuring beautiful indigenous gowns and barongs by designer Obet Orajay.
One of the program highlights was the awarding of the winner of the Best Pahiyas Window Décor with workshop participants in competition. Juanita Escobar and Modesta Salamat of San Isidro got the judges' nod for the top prize, for which they received P5,000 worth of gift certificates.
But the My City, My SM, My Crafts centerpiece was clearly the Craft Market inspired by the traditional Bahay na Bato in Luzon. This beautifully designed showcase was a treasure trove of the best of the best crafts in Laguna, and was an instant hit among SM City Lucena shoppers.
The Craft Market included artisan pottery pieces from Ugu Bigyan; candles in coconut shells from Sa'tin Crafts; buri and buntal bags from Sariayanas; extraordinary décor made from the ordinary things like bottles, twigs, and pieces of twine from Martha's Handicrafts; wooden sculptures from Banglos; bags from the Gat Uban Weavers, decorative soap from The Soap Farm; and kiping inspired décor from Pahiyas Crafts. OTOP products like Lambanog or coconut wine were also in display.
Craft demonstrations by Lola Salome Purio, a weaver from Gat-Uban; and Nucifera Pacific Enterprise, which showcased how coco coir is made, likewise delighted mallgoers.
My City, My SM, My Crafts is a take-off from the previous My City, My SM campaign, which promotes tourism, and My City, My SM, My Cuisine, which highlights the culinary specialties in cities were SM has malls.
A celebration of traditional arts and modern Philippine design, it aims to showcase the best of the best Philippine crafts in each host city, providing livelihood opportunities, as well as a platform for cultural exchange.
The Lucena launch is the second in the My City, My SM, My Crafts road show after SM City Santa Rosa. The next stop will be in SM City Batangas.