MANDAYA AND MODERN ARTISTRY IN LANANG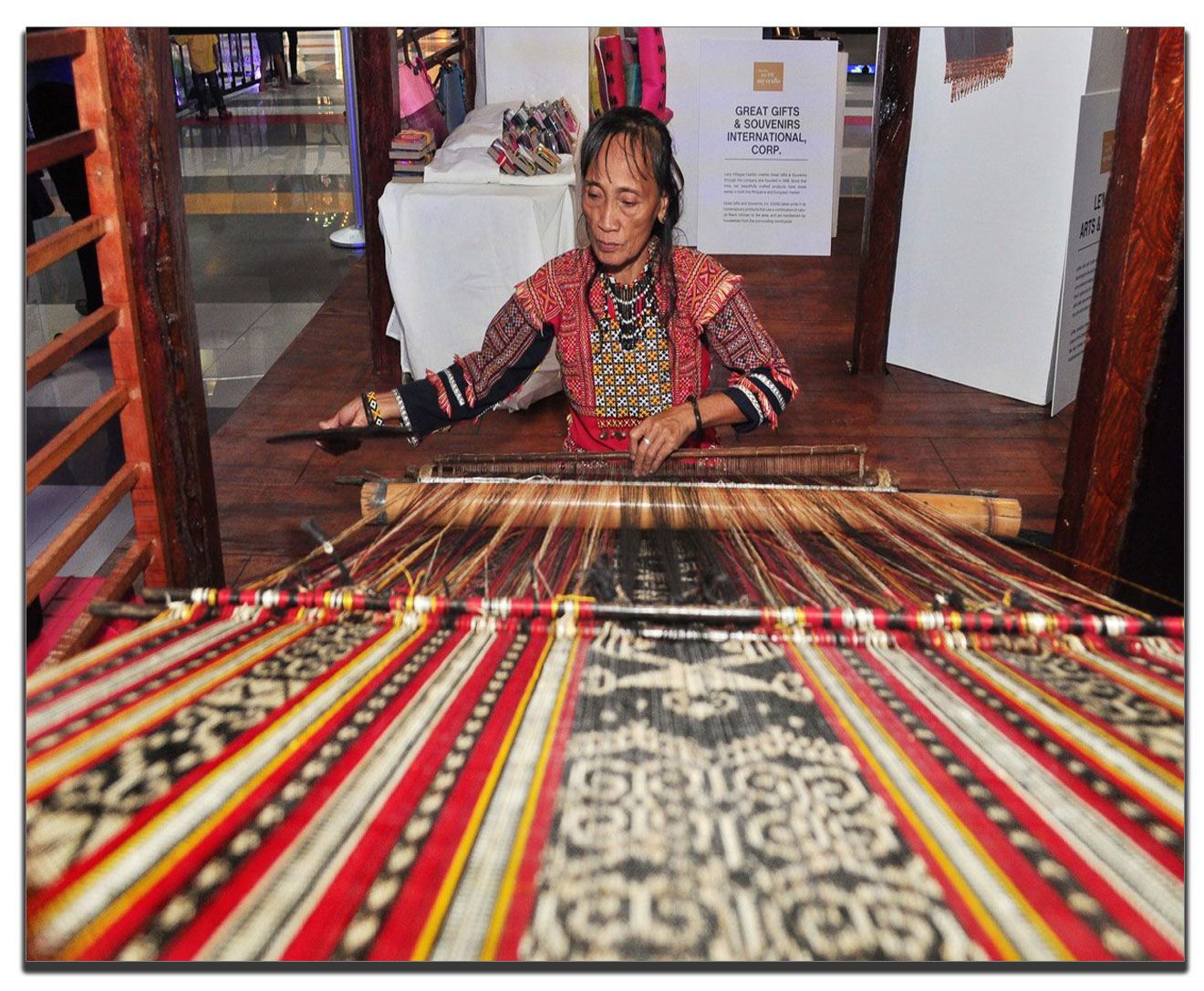 Davao has an enchanting and brilliant tapestry of harmony, woven from the diverse cultural threads of its people – the migrant settlers from all over the country, as well as the numerous indigenous communities who continue to live centuries ago.
The colorful artistic heritage of Davao can be found in the rich culture of its indigenous communities – the Bagobos, the Mandayas, the Mansakas, the Atas, the Kalagans, the Tagakaolos, and the Mangguangans.
At the same time, no other city effortlessly combines traditional and modern design like Davao, where one can find workshops of local artisans who have fashioned world-class products from the natural materials around them. With this, it is not surprising that Davao's arts and crafts are rooted in both culture and innovation.
Mallgoers recently had a glimpse of crafts from Davao, as well as the rare opportunity to meet its master craftsmen up close when My City, My SM, My Crafts recently made its nineteenth stop at SM Lanang Premier. A joint project of SM, DTI's Bureau of Domestic Trade, and the Philippine Star with support from CITEM and the National Commission for Culture and the Arts, it is a celebration of traditional arts and modern Philippine design in the cities where SM has malls.
No less than Councilor Victorio Advincula, Jr., representing Davao City Mayor Rodrigo Duterte, graced the event together with Congressman Karlo Nograles, and Hon. Rican Calig-onan, the Indigenous Peoples Mandatory Representative from Caraga, Davao Oriental. Also present were the Malaysian Consul General in Davao Abdullah Zawawi Tahir, NCCA Cluster Head and NCMF Commissioner Salem Demuna, and Davao Ikebana Society former President Danney Barnett.
SM officials led by SM Senior Vice President for Marketing Millie Dizon, SM City Lanang Premier Mall Manager Mary Therese Lapeña-Manalo and Assistant Mall Manager Jerome Ryan Yeo gave the guests a warm welcome.
Guests enjoyed the program, which included a video presentation featuring Davao's world-class crafts with 2007 Bb. Pilipinas International Nadia Shami as the video's tour guide.
The highlight of the event was a cultural tableau featuring the Mandaya cultural community. Known as "inhabitants of the uplands", the Mandayas are found throughout Davao Oriental and Davao del Norte.
The Mandayas have a solid tradition in weaving, as can be seen in their famed coarsely textured Dagmay cloth. Woven from abaca fiber, the final products are embroidered with bright colored threads in geometric patterns. Some elements of tribal folklore are also included in the design.
Dagmay springs from a Mandaya weaver's dream. Each design tells the story of the weaver, the community, and the spirits that live on earth. This is why every woven dagmay is unique and sacred.
Mandaya jewelry – beautiful intricately bead work – is mostly fashioned at home into exquisite red, black, white, and yellow earrings, bracelets, chokers, as well as apron-like multi-colored necklaces. The Mandayas are also expert silversmiths, who craft weapons, breastplates, and dress accessories.
The event also featured the awarding of the winner of the Wall Art Making contest, with workshop participants from the Bigay Buhay Multipurpose Cooperative's Project SELP – Support the Employment and Livelihood of People with Disability. Angelito Janohan got the judges' nod for the top prize for his artwork in paper and mixed materials, for which he received P5,000 worth of gift certificates.
Judges included Councilor Victorio Advincula, Jr. and Kultura SM Lanang Premier Store Manager Janet Dajao.
But the My City, My SM, My Crafts centerpiece was clearly the Craft Market inspired by the traditional Maranao house in Mindanao. This beautifully designed showcase was a treasure trove of the best of the best crafts in the province, and was an instant hit among SM Lanang Premier shoppers.
The Craft Market showcased traditional arts and world-class craftsmanship from Davao: woven wonders and exquisite jewelry from the Mandaya cultural community; hand-woven shawls and artisan accessories from Le' Mar Arts & Crafts, Shiela Damalerio's chic bamboo clutches, and Jun Artajo's trailblazing fashion pieces made from indigenous materials.
It also featured amazing gifts and items for the home: Tadeco Home's furniture, décor, and lighting accents using distinctive tribal fabrics; Dati Coco Crafts' coco wood products inspired by hand paintings of tribal costumes, and perfect presents from Great Gifts & Souvenirs International Corporation.
My City, My SM, My Crafts is a take-off from the previous My City, My SM campaign, which promotes tourism, and My City, My SM, My Cuisine, which highlights the culinary specialties in cities were SM has malls. A celebration of traditional arts and modern Philippine design, it aims to showcase the best of the best Philippine crafts in each host city, providing livelihood opportunities, as well as a platform for cultural exchange.
The SM Lanang Premier launch is the sixth in the Second Season of the My City, My SM, My Crafts road show after SM City Clark, SM City Masinag, SM City Lipa, SM City Calamba, and SM City Baliwag. The first season made stops at SM City Santa Rosa, SM City Lucena, SM City Batangas, SM City Davao, SM City Naga, SM City Cagayan de Oro, SM City Marilao, SM City Dasmariñas, SM City Taytay, SM City Pampanga, SM City Iloilo, SM City Baguio and SM City Cebu. The next stop will be in SM City Bacolod.