CELEBRATING KAPAMPANGAN FASHION + ARTISTRY IN CLARK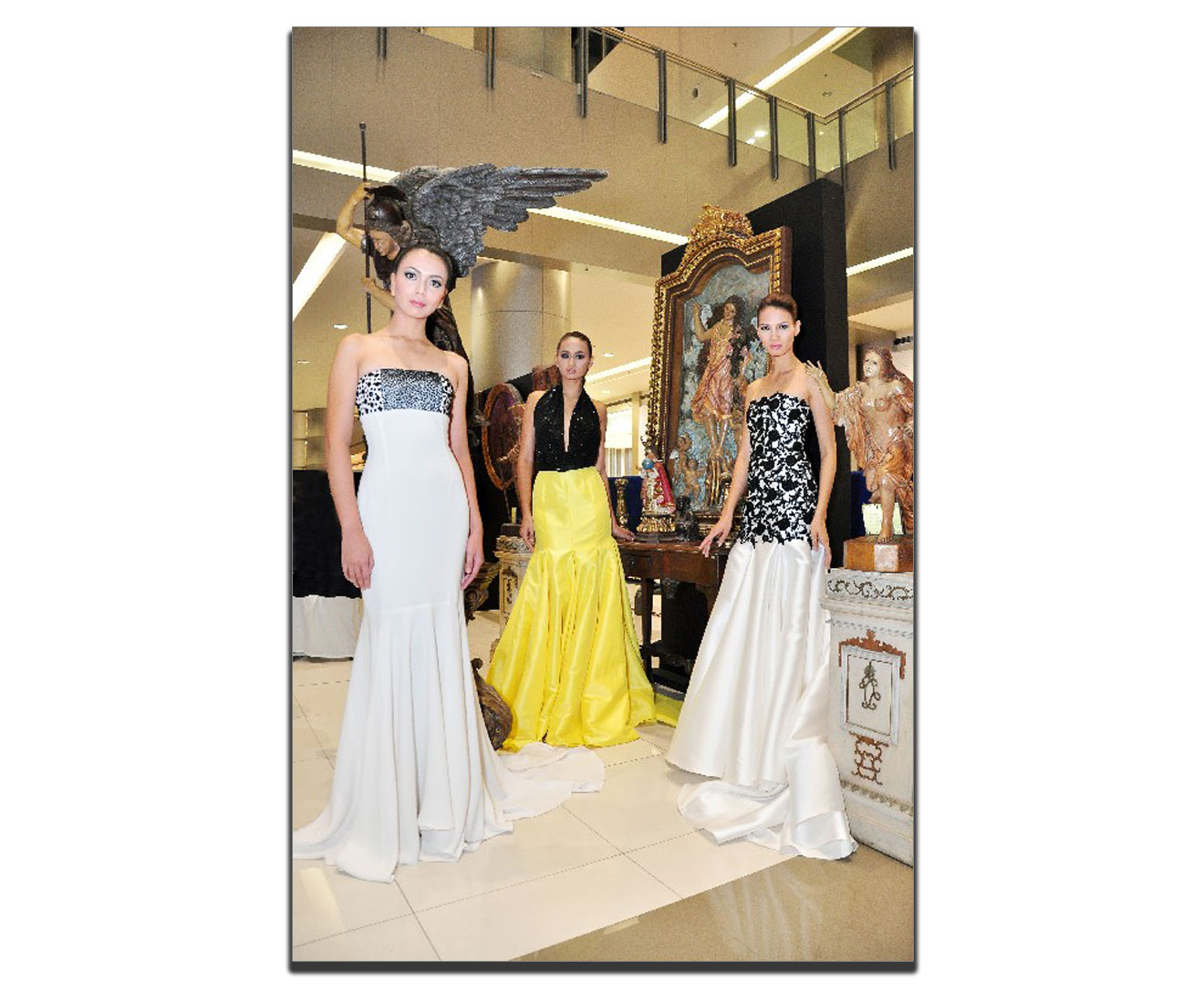 It can be said that cultural exchange has played a great role in Kapampangan artistry and craftsmanship. During pre-Hispanic time, Kapampangan traders brought Chinese goods all across Southeast Asia.
With the Spanish colonizers came the Catholic faith, and with it religious art. It was the Augustinian friars who taught the people of Betis, Pampanga to carve wood into religious images, contributing to the spiritual and cultural advancement of the town.
Chinese artisans, with natives as apprentices, built the first rebulto and retablo. At first, they imitated images from prints and catalogues taken by friars from Spain. However, when they later visited European countries, they brought back continental taste and influences.
The coming of the Americans brought with them the suburban lifestyle. Clark – which was then an air base – was the centerpiece of this contemporary way of living.
Given all these influences, it is not surprising that Kapampangans are highly skilled, innovative, and wonderfully creative in craftsmanship.
Mallgoers recently had a glimpse of Kapampangan crafts, as well as the rare opportunity to meet its master craftsmen up close when My City, My SM, My Crafts recently made its fourteenth stop at SM City Clark. A joint project of SM, DTI's Bureau of Domestic Trade, and the Philippine Star with support from CITEM and the National Commission for Culture and the Arts, it is a celebration of traditional arts and modern Philippine design in the cities where SM has malls.
No less than Angeles City Mayor Ed Pamintuan and his wife Herminia graced the event together with Vice Mayor Vicky Vega-Cabigting, and DTI Senior Trade and Industry Specialist Annabelle Reyes. SM officials led by SM Senior Vice President for Marketing Millie Dizon and SM City Clark Mall Manager Ana T. Datu gave the guests a warm welcome
The event also paid tribute to the late Juan Flores who created a local version of the Renaissance in Europe in his hometown by imparting his magnificent skills to Betis natives, thus elevating the life of the community after the post-war period.
As a young boy, he liked making sculptures through mud from the riverbank along the Betis River in Sta. Ursula. At 18, he went to Manila, where he worked as an apprentice to notable sculptors like Maximo Vicente, Isabelo Tampinco, and Eulogio Garcia. But he developed a style of his own.
He may have never gotten rich, but Juan Flores amassed a great wealth of recognition, which became his ultimate legacy. In 1972, he won the Grand Prize in Richard Nixon's Sculpture Making Competition in Washington, DC. He was also the designer of the mansion of the first couple in Batac, Ilocos Norte in 1974, as well as the renovation of Malacañang in the following year.
Juan Flores was honored with the Panday Pira Award in the Pioneering Category in 1977 and was named the Most Distinguished Son of Pampanga in 1982. His son, Daniel Flores, represented his father during the event; very generously lending the master sculptor's amazing works to the My Crafts exhibit.
Guests enjoyed the program, which included a video presentation featuring Pampanga's world-class crafts with Heliane Fabian, a GMA 7 Excellence Awardee as the video's tour guide.
The highlight of the event was a fashion show showcasing elegant evening gowns by Kapampangan fashion designer Efren Ocampo. Born and raised in Bacolor and trained in New York, Ocampo has been a ready-to-wear designer at the SM Store for the past twenty years.
It also featured the awarding of the winner of the Kite Making Workshop contest with workshop participants breathing new life to what is considered a dying art. Sebastian Silos got the judges' nod for the top prize, for which he received P5,000 worth of gift certificates.
Judges included DTI Senior Trade and Industry Specialist Ms. Annabelle Reyes, Center for Kapampangan Studies Cultural Activities Coordinator Erlinda Cruz, Museo Ning Angeles Tour Guide Kim Tinio, and Pampanga parol maker Roland Quiambao.
But the My City, My SM, My Crafts centerpiece was clearly the Craft Market inspired by the traditional Bahay na Bato in Luzon. This beautifully designed showcase was a treasure trove of the best of the best crafts in the province, and was an instant hit among SM City Clark shoppers.
The Craft Market showcased traditional arts and world-class craftsmanship from Pampanga: fine furniture from JP Betis Furniture and Venzon Manufacturing; a-maze-ing ornate classic lines and sleek modern designs from Maze Manufacturing; and mechanical masterpieces from Dale Mathis.
It also featured creative décor from Chrysara and Chilonia Fabrica; fiberglass furniture and statues from JGKM Home Decors; eco-friendly products from Beyond Home Décor; metal furniture mixed with wood or wicker from Prigonza; and delicate crochet pieces from TFT Enterprises.
My City, My SM, My Crafts is a take-off from the previous My City, My SM campaign, which promotes tourism, and My City, My SM, My Cuisine, which highlights the culinary specialties in cities were SM has malls. A celebration of traditional arts and modern Philippine design, it aims to showcase the best of the best Philippine crafts in each host city, providing livelihood opportunities, as well as a platform for cultural exchange.
The Clark launch is the fourteenth in the My City, My SM, My Crafts road show after SM City Santa Rosa, SM City Lucena, SM City Batangas, SM City Davao, SM City Naga, SM City Cagayan de Oro, SM City Marilao, SM City Dasmariñas, SM City Taytay, SM City Pampanga, SM City Iloilo, SM City Baguio and SM City Cebu. The next stop will be in SM City Masinag.