DAZZLE AND MODERN CRAFTSMANSHIP IN MASINAG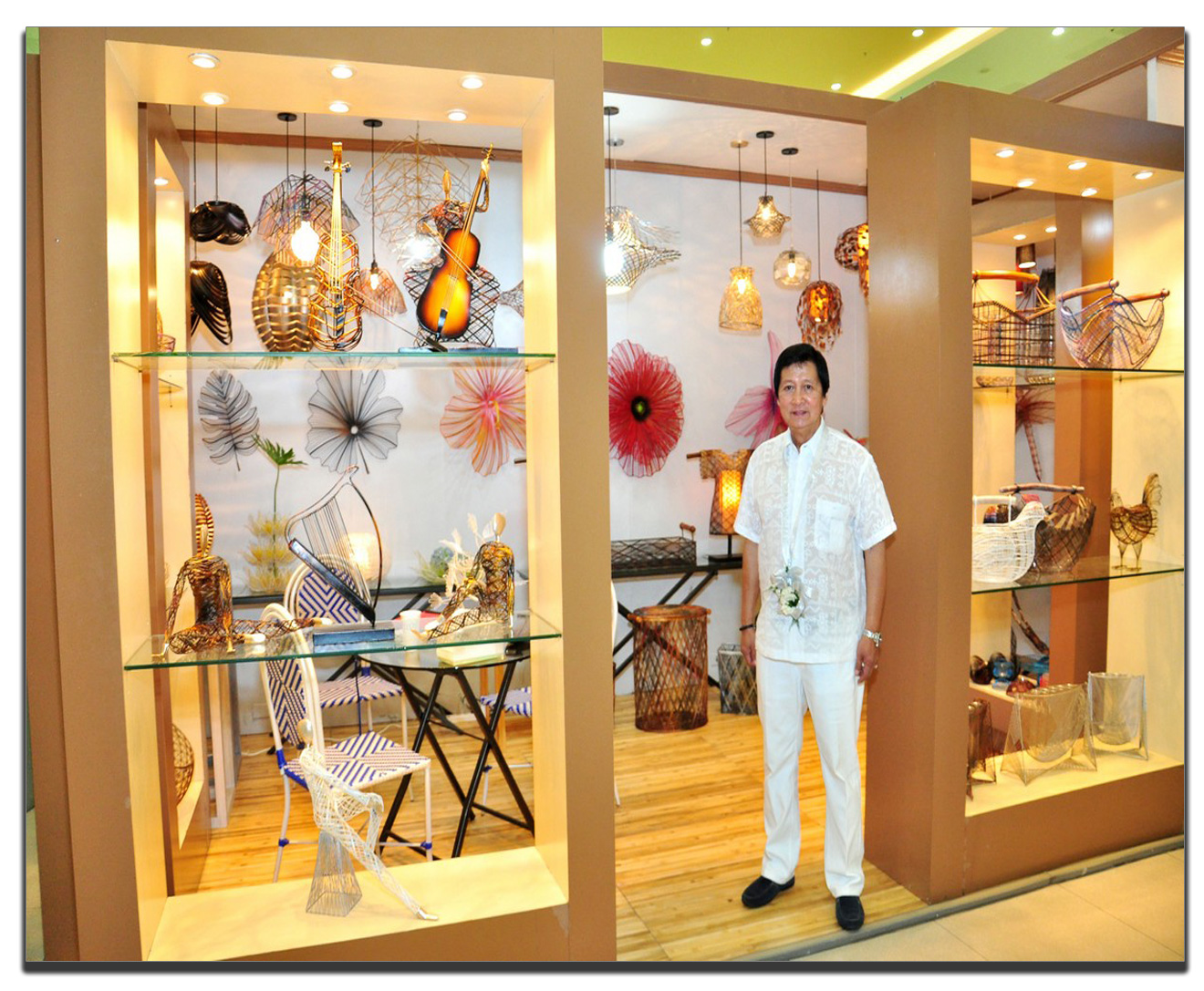 It is said that in the past, Antipolo, like the rest of the province of Rizal enjoyed the best of two shores: the seashore of Manila Bay with its famous sunset to the west, and the lakeshore of Laguna on the east.
Today, Rizal enjoys the best of both worlds – a rustic charm despite its rapid development; a distinctive small town charm despite its proximity of Metro Manila. The towns, in spite of the mushrooming of commercial subdivisions, still revolve around the central plaza where the centuries old church, the municipal hall, and the main school usually stand. Each town in Rizal has its own unique, vibrant spirit that is reflected in its festivals, cuisine, and its crafts.
People residing in Rizal's 14 towns engage in traditional arts and crafts and hold colorful festivals. As the Art Capital of the Philippines, Rizal's beauty has also inspired an artistic and talented work force to engage in dynamic small and thriving large industries. The diversity of Rizal's artisan crafts may surprise you.
Mallgoers recently had a glimpse of crafts from the Province of Rizal, as well as the rare opportunity to meet its master craftsmen up close when My City, My SM, My Crafts recently made its fifteenth stop at SM City Masinag. A joint project of SM, DTI's Bureau of Domestic Trade, and the Philippine Star with support from CITEM and the National Commission for Culture and the Arts, it is a celebration of traditional arts and modern Philippine design in the cities where SM has malls.
No less than Rizal Governor Rebecca Ynares graced the event together with Chiqui Roa-Puno, wife of Antipolo Congressman Robbie Puno; Angono First Lady Ida Calderon, Vice Mayor Antonio Rubin, and Councilor Ginoclem Miranda, and Antipolo City Councilor Philip Acop. Officials from project partner, the Department of Trade and Industry also came in full force led by DTI Region IVA Regional Director Marilou Toledo and Provincial Director Mercedes Parreño. SM officials led by SM Senior Vice President for Marketing Millie Dizon, SM Supermalls Regional Operations Manager for Central 2 Giuseppe Jahrling, AVP for Marketing TJ Cuenca, and SM City Masinag Mall Manager Rejin Cruz and Assistant Mall Manager Alan Jarantilla gave the guests a warm welcome.
Guests enjoyed the program, which included a video presentation featuring Rizal's world-class crafts with television personality Chiqui Roa-Puno as the video's tour guide.
The highlight of the event was a fashion show showcasing the wonderful creations by fashion designer Amir Sali. Known as the Prince of Beads, his exquisite masterpieces have dazzled Middle Eastern Royalty for almost two decades. European trained, he lived in the Middle East and has chosen to make Cainta, Rizal his home, sharing his shining, shimmering, splendid clothes with his countrymen.
It also featured the awarding of the winner of the Wire Décor Making Workshop contest with workshop participants transforming wire into works of art. Rica May Fajilagutan got the judges' nod for the top prize, for which she received P5,000 worth of gift certificates.
Judges included renowned painter and sculptor Nemiranda, DTI Region IVA Regional Director Marilou Toledo, and Antipolo City Councilor Philip Acop.
But the My City, My SM, My Crafts centerpiece was clearly the Craft Market inspired by the traditional Bahay na Bato in Luzon. This beautifully designed showcase was a treasure trove of the best of the best crafts in the province, and was an instant hit among SM City Masinag shoppers.
The Craft Market showcased traditional arts and world-class craftsmanship from Rizal: world-class furniture and décor from Prado Filipino Artisans, Inc. and Sibol Furniture; wire art from NC Filmade Corp; remarkable resin pieces from TML Holy Crafts and Art 24, Inc.; contemporary flower crafts from Buyak Industries; and Christmas décor and gift boxes from Buena Mano Crafts.
My City, My SM, My Crafts is a take-off from the previous My City, My SM campaign, which promotes tourism, and My City, My SM, My Cuisine, which highlights the culinary specialties in cities were SM has malls. A celebration of traditional arts and modern Philippine design, it aims to showcase the best of the best Philippine crafts in each host city, providing livelihood opportunities, as well as a platform for cultural exchange.
The Masinag launch is the fifteenth in the My City, My SM, My Crafts road show after SM City Santa Rosa, SM City Lucena, SM City Batangas, SM City Davao, SM City Naga, SM City Cagayan de Oro, SM City Marilao, SM City Dasmariñas, SM City Taytay, SM City Pampanga, SM City Iloilo, SM City Baguio, SM City Cebu and SM City Clark. The next stop will be in SM City Lipa.