INNOVATIVE LAMPS, CREATIVE BOX-WORKS, XMAS CRAFTS IN TAYTAY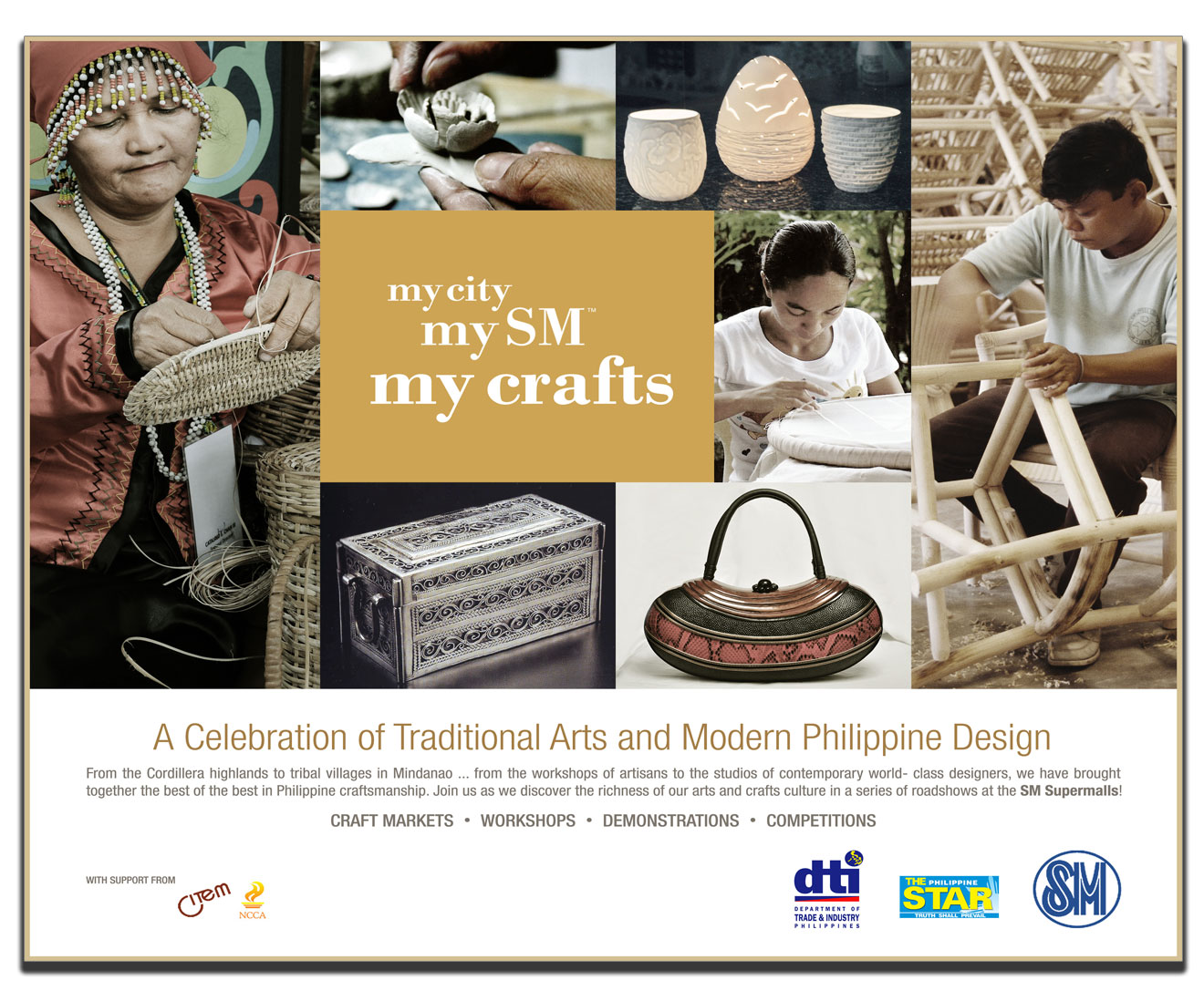 It is said, that in the past, residents of what is now known as the province of Rizal enjoyed the best of two shores – the seashore of Manila Bay with its famous sunset on the west, and the lakeshore of Laguna on the east.
It is a province rich both in natural resources and in its cultural heritage. With all-out government initiatives, Rizal, which is named after our National Hero, is a first class province envisioned to be the country's next business capital.
Despite its rapid development, much of Rizal retains its rustic charm. People residing in its 14 towns engage in traditional arts and crafts and hold colorful yearly festivals. Rizal's beauty has also inspired an artistic and talented workforce to engage in dynamic small and thriving large industries. And artisan crafts await us in the Art Capital of the Philippines.
Mallgoers recently had a glimpse of crafts from Rizal province when My City, My SM, My Crafts recently made its ninth stop at SM City Taytay. A joint project of SM, DTI's Bureau of Domestic Trade, and the Philippine Star with support from CITEM and the National Commission for Culture and the Arts, it is a celebration of traditional arts and modern Philippine design in the cities where SM has malls.
Taytay City Mayor Janet de Leon Mercado, Vice Mayor Carlito Gonzaga, and DTI Provincial Director for Rizal Mercedes Parreno graced the event. SM officials led by SM Vice President for Marketing Millie Dizon, SM Supermalls Regional Operations Manager Guiseppe Jahrling, AVP for Marketing Timothy Jonas Cuenca, and SM City Taytay Mall Manager Maureen G. Fernandez gave the guests a warm welcome.
They enjoyed the program, which included a video presentation featuring the crafts of Rizal with Angono's Pride artist Nemiranda as tour guide. Mr. Nemiranda not only graced, but also exhibited his beautiful artworks during the event.
After each presentation, mimes dressed as artists presented artworks of collages highlighting the different crafts – as the participating exhibitors were called on stage, again inspired by Rizal, the Art Capital of the Philippines.
One of the program highlights was the awarding of the winner of the Higantitos contest with workshop participants making their own miniature versions of the famous Higantes. Seth Kemuel Ravazo got the judges' nod for the top prize, for which he received P5,000 worth of gift certificates.
Judges included Taytay Public Information Officer Jovy Medina Leonardo, Philippine Star Key Accounts Officer Eliz Lim, and DTI Regional Director Mercedes Parreno.
But the My City, My SM, My Crafts centerpiece was clearly the Craft Market inspired by the traditional Bahay na Bato in Luzon. This beautifully designed showcase was a treasure trove of the best of the best crafts in the province, and was an instant hit among SM City Taytay shoppers.
The Craft Market showcased diverse gifts from Rizal's forests – fine furniture, creative home furnishings, and innovative coconut and bamboo lamps and décor from JA Eustaquio Art Craft Enterprise, Benelco Arts and Crafts, JR Red Arts and Crafts, and the Tiberiade Community Foundation.
Fahlaines Jewelry Handicrafts, Yamang Atin Enterprises, and the ARH Arts and Crafts Collection showcased decorative yet functional organizers that are very popular in the local and international markets today. ELMN Enterprises, on the other hand, celebrated all that is exotic and exquisite with their snakeskin bags and wallets.
Christmas crafts like Santas of all sizes from Medoth Phils and opulent ornaments and traditional nativity sets from CD Handicrafts brought the holiday spirit to the event.
My City, My SM, My Crafts is a take-off from the previous My City, My SM campaign, which promotes tourism, and My City, My SM, My Cuisine, which highlights the culinary specialties in cities were SM has malls. A celebration of traditional arts and modern Philippine design, it aims to showcase the best of the best Philippine crafts in each host city, providing livelihood opportunities, as well as a platform for cultural exchange.
The Taytay launch is the ninth in the My City, My SM, My Crafts road show after SM City Santa Rosa, SM City Lucena, SM City Batangas, SM City Davao, SM City Naga, SM City Cagayan de Oro, SM City Marilao, and SM City Taytay. The next stop will be in SM City Pampanga.