BOLD AND COLORFUL FASHION TAPESTRIES IN NORTH EDSA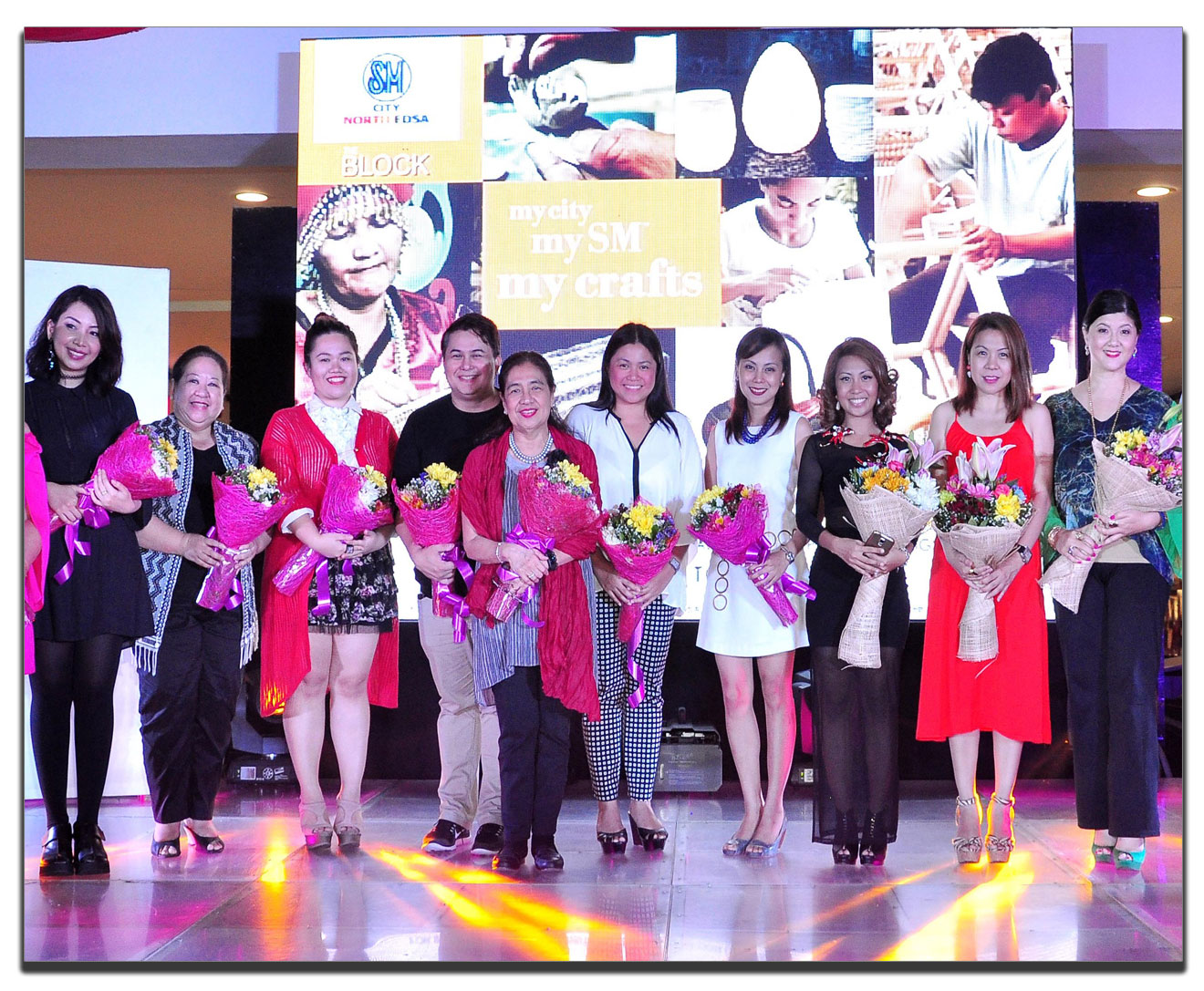 Mallgoers recently discovered how form, function, and design are sewn together by Filipino craftsmen into bold and colorful fashion tapestries when My City, My SM, My Crafts made a stop at SM City North EDSA.
This special edition of the campaign focused on fashion, which reaches beyond clothing and into the way we lead our lives. Fashion, after all, is synonymous with function, identity, power, ornamentation, and culture.
The event featured nine trailblazing designers who have amazed the world with their unique fashion pieces that combine artisanal crafts and contemporary sensibilities. These include JC Buendia, Nere Ku, Carissa Cruz-Evangelista, Farah Abu, Happy Andrada, Tipay Caintic, Lally Dizon, Twinkle Ferraren, and Gretchen Gaffud, who all gave shoppers a rare glimpse of Metro Manila's stylish side.
A joint project of SM, DTI's Bureau of Domestic Trade, and the Philippine Star with support from CITEM and the National Commission for Culture and the Arts, My City, My SM, My Crafts is a celebration of traditional arts and modern Philippine design in the cities where SM has malls.
No less than Quezon City Vice Mayor Joy Belmonte and Ms. Weng Domingo, wife of DTI Secretary Gregory Domingo graced the event, together with multi-awarded filmmaker Brillante Mendoza. Project partners – DTI Bureau of Domestic Trade Director Rhodora Leaño, the Philippine Star's SVP for Sales and Marketing Lucien Dy-Tioco, and CITEM's Diane Roldan – came in full force to support the project.
Other guests included Quezon City Councilors Dorothy Delarmente, Candy Medina, and Wency Lagumbay, as well as HABI Chair Maria Isabel Ongpin and Maryjo Ferraren, who represented her daughter Twinkle were also seen enjoying the event.
SM officials led by SM Senior Vice President for Marketing Millie Dizon, SM City North EDSA AVP for Operations Arch. Renee Bacani and AVP for Marketing Ruby Reyes gave the guests a warm welcome.
Guests enjoyed the program, which included a video presentation featuring Manila's world-class crafts featuring stylish broadcast journalist MJ Marfori as the video's tour guide.
World-class fashion reigned in The Block's atrium as the designers took turns in showcasing their amazing collections: Farah Abu's signature one-of-a-kind accessories; Happy Andrada's Incantation line mainly made with materials sourced from tribes in the Benguet region; and Lally Dizon's Orientalia bag collection
Carissa Cruz-Evangelista brought on stage her statement luxury to modern and sculptural pieces, as well as to colorful tropical eclectic bags and accessories. The young designers' collections also highlighted their advocacies: Tipay Caintic's Balik. Bulig. Jacket is a fundraising initiative for rebuilding Philippine Science High School in her native Leyte; while Twinkle Ferraren weaves indigenous materials – piña-silk, piña-abaca-cotton blends, abel-iloko, t'nalak, abaca, and Tausug – into her modern designs.
Gretchen Gaffud's luxe leather pieces delighted the audience, as did Nere Ku's playful pink signature pieces in his Tickles collection.
JC Buendia's effortlessly elegant clothes both on the runway and in his exhibit showcased his creative brilliance and why he has been a favorite of heads of state.
The event also featured the awarding of the Burda sa Barong Contest inspired by the embroidery technique of designer JC Buendia. Ten participants from Sikap Buhay Entrepreneurship and Cooperatives were trained in a workshop to add beautiful embroidery to barongs from Barong Lumban and Kultura. Josielyn Peralta got the judges' nod for the top prize, for which she received P10,000.00 in gift certificates.
But the My City, My SM, My Crafts centerpiece was clearly the Craft Market inspired by the traditional Bahay na Bato in Luzon. This beautifully designed showcase was a treasure trove of the best of the best crafts in the province, and was an instant hit among SM City North EDSA shoppers.
The Craft Market celebrated the artistry and ingenuity of SM City North EDSA's designer participants.
My City, My SM, My Crafts is a take-off from the previous My City, My SM campaign, which promotes tourism, and My City, My SM, My Cuisine, which highlights the culinary specialties in cities where SM has malls. A celebration of traditional arts and modern Philippine design, it aims to showcase the best of the best Philippine crafts in each host city, providing livelihood opportunities, as well as a platform for cultural exchange.
The SM City North EDSA launch is the eleventh in the Second Season of the My City, My SM, My Crafts road show after SM City Clark, SM City Masinag, SM City Lipa, SM City Calamba, SM City Baliwag, SM Lanang Premier, SM City Bacolod, SM City Tarlac, SM City Olongapo, and SM City San Pablo.
The first season made stops at SM City Sta. Rosa, SM City Lucena, SM City Batangas, SM City Davao, SM City Naga, SM City Cagayan de Oro, SM City Marilao, SM City Dasmariñas, SM City Taytay, SM City Pampanga, SM City Iloilo, SM City Baguio and SM City Cebu.