POTTERY, PAPER, AND A CULTURAL TABLEAUX IN CAGAYAN DE ORO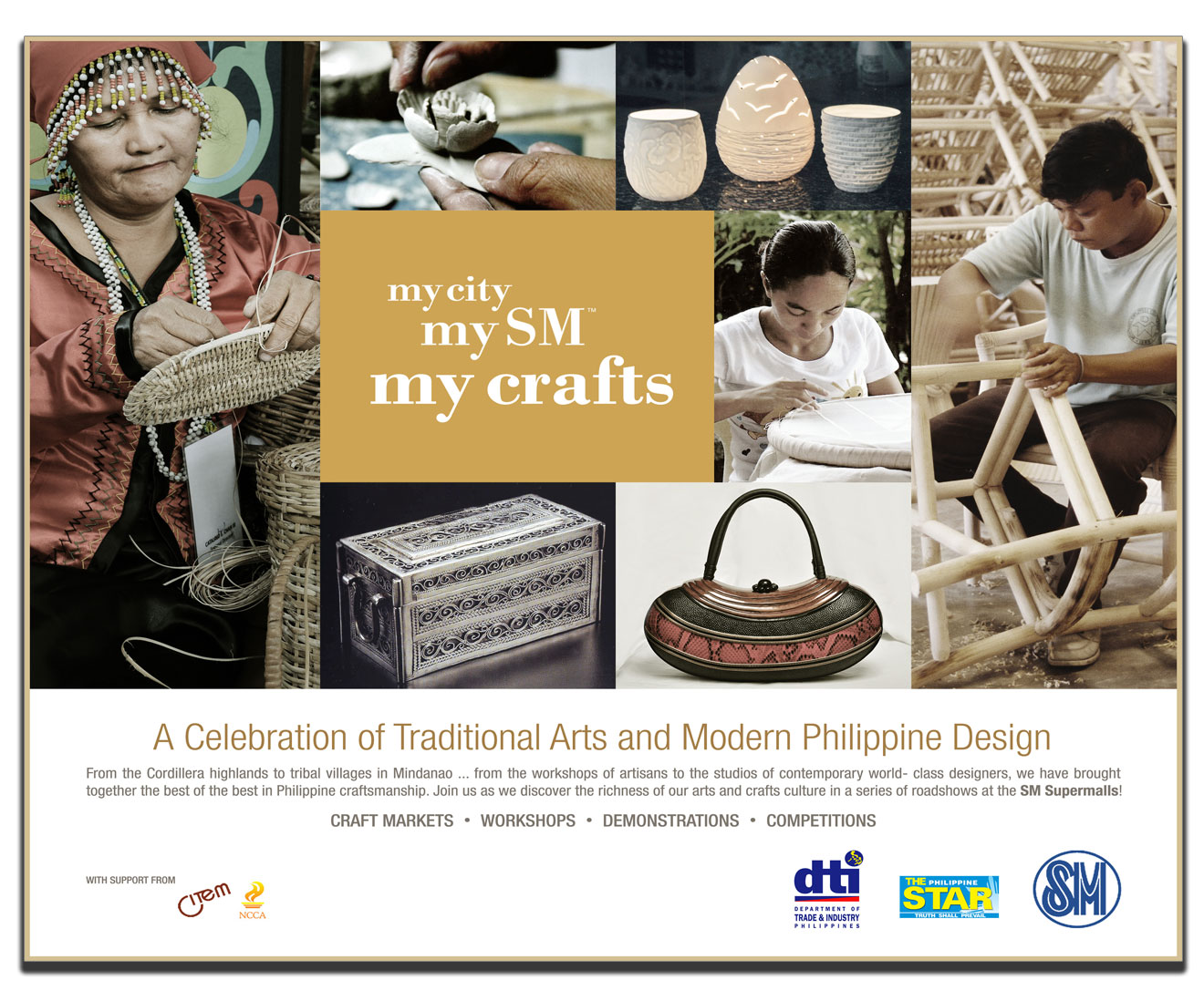 It is said that gold has always been abundant in the Cagayan River, giving Cagayan de Oro, the City of Golden Friendship its name. It is also the gateway to Northern Mindanao, a gold mine of amazing and diverse attractions like white water rafting and the Malasag Eco-Tourism village.
With its natural attractions, rich cultural heritage, and warm, friendly people, it is a City in Bloom, in Blossom, and in Boom, the site of SM's second mall in Mindanao.
Cagayan de Oro is also culturally diverse, where people of different languages, indigenous communities, and cultures meet. As a melting pot, the city's arts and crafts shine like gold.
Mallgoers had a glimpse of the best of the best in Cagayan de Oro's crafts, as well as Northern Mindanao's rich cultural heritage when My City, My SM, My Crafts recently made its sixth stop at SM City Cagayan de Oro. A joint project of SM, DTI's Bureau of Domestic Trade, and the Philippine Star with support from CITEM and the National Commission for Culture and the Arts, it is a celebration of traditional arts and modern Philippine design in the cities where SM has malls.
No less than Cagayan de Oro Mayor Oscar Moreno, DTI Regional Director Linda Boniao, and DTI Provincial Director Eliza Pabillore attended the event and proudly viewed their products. City Tourism Chair Dorothy Jean Pabayo, Ms. Eileen San Juan, as well as the DTI team and the DOT-10 family were also present.
SM officials led by SM Vice President for Marketing Millie Dizon, as well as SM City Cagayan de Oro Mall Manager Clara Elizaga and Assistant Mall Manager Constantine Arce gave guests a warm welcome.
They enjoyed the program, which included a video presentation featuring the crafts of Cagayan de Oro with Ms. Cagayan de Oro 2013 Amadea Patti as a guide.
Northern Mindanao's rich cultural heritage was showcased by a show-stopping cultural performance featuring its six indigenous communities: the Umayamnons with the binaylan dance; the Bukidnons with the planting dance; the Subanons with the courtship dance; the Tigwahanons with the indakulon and pinag-paging dance; the Higaonons with the binanog dance; and the Talaandigs with the tinambol dance.
One of the program highlights was the awarding of the winner of the Ethnic Beaded Necklace Making contest with workshop participants in competition. Marivic Liconda's beautifully crafted ethnic beaded necklace got the judges' nod for the top prize, for which she received P5,000 worth of gift certificates.
Judges included DTI Regional Director Linda Boniao, City Tourism Council Chair Dorothy Jean Pabayo, DOT 10 Supervising Tourism Operations Officer Maria Elena Manalo, Ms. Eileen San Juan, and Rhyan Casiño.
But the My City, My SM, My Crafts centerpiece was clearly the Craft Market inspired by the traditional Maranao House in Mindanao. This beautifully designed showcase was a treasure trove of the best of the best crafts in the province, and was an instant hit among SM City Cagayan de Oro shoppers.
The Craft Market included artisan pottery from The Stoneware Pottery, Inc.; and rattan home furnishings from Greenminds, Inc. Beautifully crafted artisan paper products from Salay Handmade Paper and San Roque Handmade Paper were also very popular among shoppers.
Other golden finds: Christmas décor and fashion accessories from Tinabuan Arts & Crafts; woven mats from Sannidcolandia Weavers Association; bags and home furnishings made from abaca fiber and corn husks from Puyo Handicrafts; sleeping mats from Talisay Romblon Products Producers Association; abaca handwoven bags from 2N Handicrafts; and lamp shades and home accessories from Alubijid Lampanakay Weavers Association.
My City, My SM, My Crafts is a take-off from the previous My City, My SM campaign, which promotes tourism, and My City, My SM, My Cuisine, which highlights the culinary specialties in cities were SM has malls. A celebration of traditional arts and modern Philippine design, it aims to showcase the best of the best Philippine crafts in each host city, providing livelihood opportunities, as well as a platform for cultural exchange.
The Cagayan de Oro launch is the sixth in the My City, My SM, My Crafts road show after SM City Santa Rosa, SM City Lucena, SM City Batangas, SM City Davao, and SM City Naga. The next stop will be in SM City Marilao.