A TRIBUTE TO KENNETH COBONPUE AND CEBUANO ARTISTRY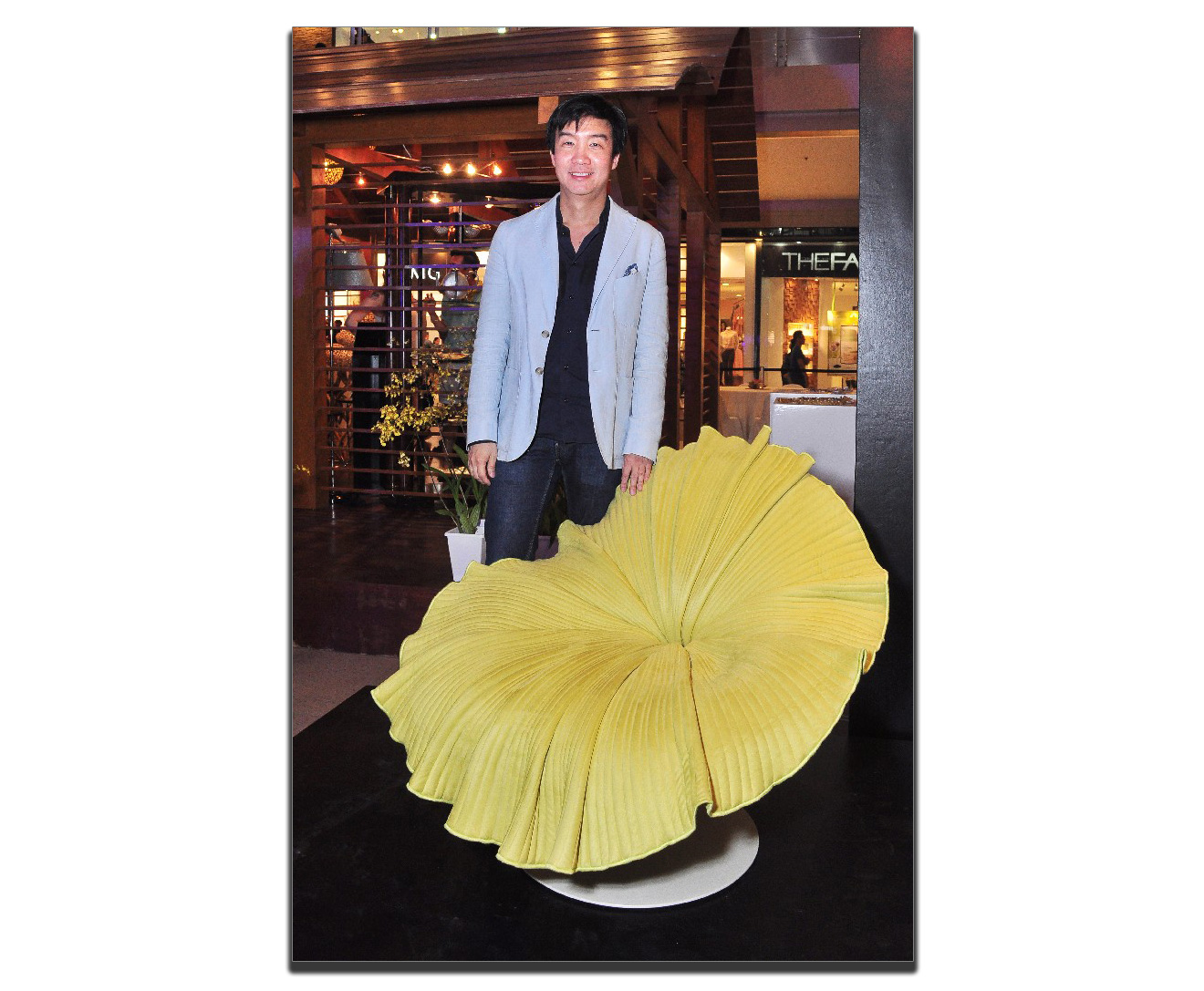 Cebu City is known as the Milan of Asia as it has become a major design destination. Cebuano designers are recognized for their skill and artistry as shown in the globally competitive products that have awed the world.
The Queen City of the South has a history of its people's ingenuity in making do with whatever they have. They are used to making things work with whatever is on hand for them to work with.
And because they are surrounded by beautiful, natural scenery, they can't help but turn out things of beauty.
With that, it is not surprising that Cebuano products today are a fusion of eastern craftsmanship, natural materials, age-old traditions, clever designs, and modern technology.
Whether it is in weaving, furniture making, guitar making, jewelry or home accessories, Cebuanos come up with the most innovative and exciting designs ever, yet retain the beauty of form and function.
Mallgoers recently had a glimpse of Cebuano crafts, as well as the rare opportunity to meet its master craftsmen up close when My City, My SM, My Crafts recently made its thirteenth stop at SM City Cebu. A joint project of SM, DTI's Bureau of Domestic Trade, and the Philippine Star with support from CITEM and the National Commission for Culture and the Arts, it is a celebration of traditional arts and modern Philippine design in the cities where SM has malls.
DTI 7 Regional Director Asteria Caberte and Cebu City Councilor Nida Cabrera graced the event together with prominent Cebuanos Elvira Lu Ym and Luz Mancao. SM officials led by SM Prime Vice President for Vizmin Marissa Fernan, SM Senior Vice President for Marketing Millie Dizon and SM City Cebu Assistant Mall Manager Teresa Mempin gave the guests a warm welcome.
The event also honored internationally acclaimed and multi awarded designer Kenneth Cobonpue, whose work embodies the excellence of Southeast Asian design and creativity.
Born in Cebu to a designer mother already known for creating new techniques with rattan, Kenneth allowed his curiosity to sweep him away to New York, studying industrial design at the Pratt Institute in 1987. He then worked in a leather and wood workshop in Italy, and finally went to Germany to complete his studies.
After coming home in 1996, he was willing to invent "an alternative to the Western definition of modern design" using natural fibers. And so did he start giving shape to his ideas, pairing locally sourced organic materials with innovative hand-made production techniques.
Never drawing lines, "he follows nature's contours", and has achieved fame thanks to his masterful way of mixing nature, traditional crafts, and innovative technologies.
He has won numerous awards, the latest of which is the 2014 Maison Et Objet Asian Designer of the Year in Singapore.
Guests enjoyed the program, which included a video presentation featuring Cebu's world-class crafts with businessman Vince Escario as the video's tour guide.
The highlights of the event was a fashion show showcasing the best of Cebuano artistry, as well as the awarding of the winner of the Fashion Accessories Design Workshop contest with workshop participants making their own exquisite creations. Hanna Dave Unabia got the judges' nod for the top prize, for which she received P5,000 worth of gift certificates.
Judges included DTI 7 Regional Director Asteria Caberte, FAME Philippines President Cathy Delantar, FAME Philippines Auditor Christine Kintanar, and Kultura's Remy Lipaopao.
But the My City, My SM, My Crafts centerpiece was clearly the Craft Market inspired by the traditional Panay House in the Visayas. This beautifully designed showcase was a treasure trove of the best of the best crafts in the province, and was an instant hit among SM City Cebu shoppers.
The Craft Market showcased traditional arts and world-class craftsmanship from Cebu: elegant and innovative furniture and accessories from Bon-Ace Fashion Tools and Co-Creative Studio; fine home furnishings and decorative accessories from Arden Classic; handmade jewelry and bags from Ferimar and Janice Minor Export, Inc.; and exquisite fashion jewelry pieces from Sepa Cebu and Avatar Accessories, Inc.
My City, My SM, My Crafts is a take-off from the previous My City, My SM campaign, which promotes tourism, and My City, My SM, My Cuisine, which highlights the culinary specialties in cities were SM has malls.
A celebration of traditional arts and modern Philippine design, it aims to showcase the best of the best Philippine crafts in each host city, providing livelihood opportunities, as well as a platform for cultural exchange.
The Cebu launch is the thirteenth in the My City, My SM, My Crafts road show after SM City Santa Rosa, SM City Lucena, SM City Batangas, SM City Davao, SM City Naga, SM City Cagayan de Oro, SM City Marilao, SM City Dasmariñas, SM City Taytay, SM City Pampanga, SM City Iloilo, and SM City Baguio. The next stop will be in SM City Clark.