NITO, ABACA, PILI SHELL, AND PIÑA INNOVATIONS IN NAGA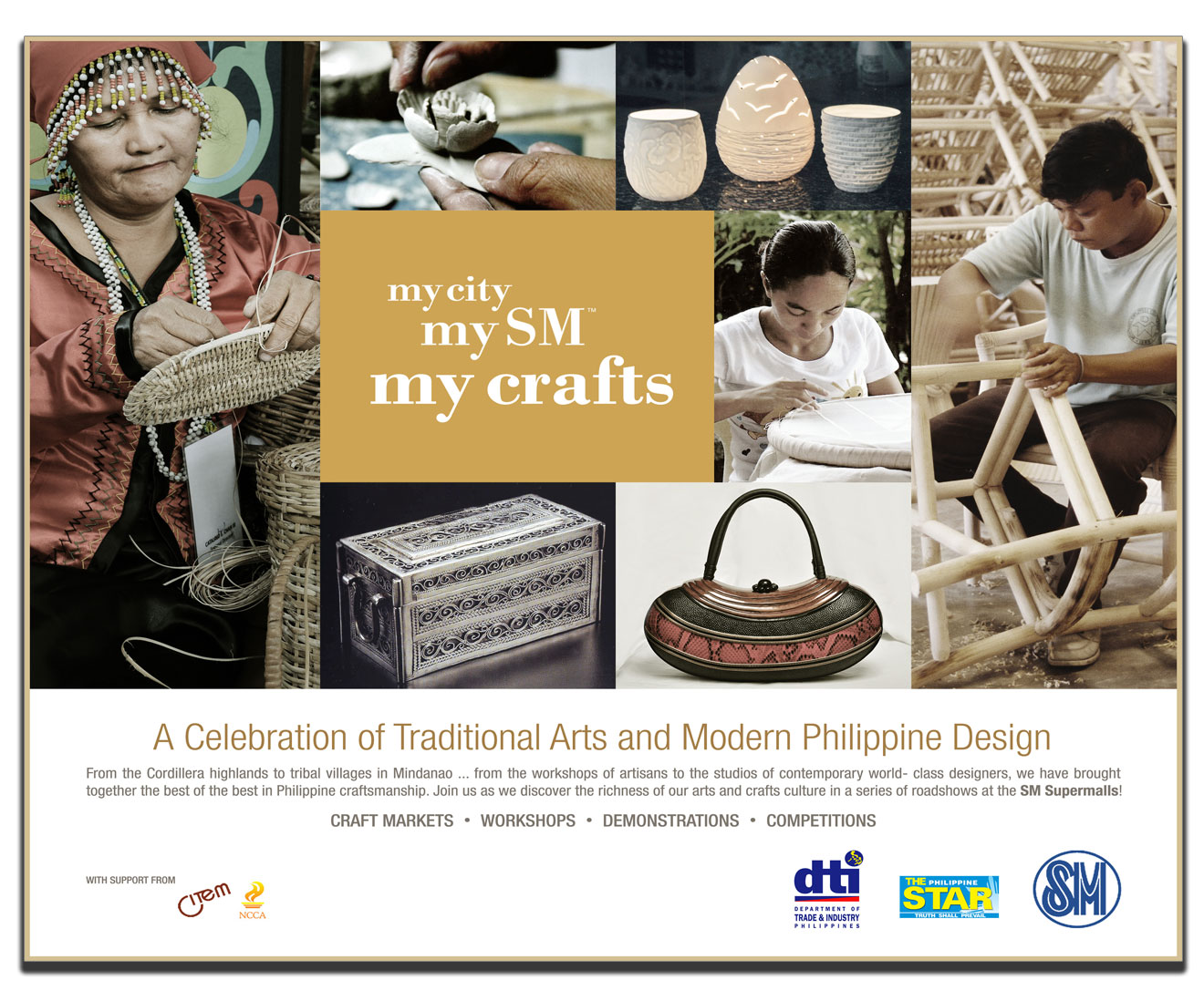 There is so much to discover in the six Bicol provinces – Albay, Camarines Norte, Camarines Sur, Catanduanes, Masbate, and Sorsogon. It is the land of the majestic Mayon Volcano and the miraculous Our Lady of Peñafrancia, of pili and sili, of gata and tabios, of whale sharks, abaca, and copra. Rich in natural resources, it has many tourist attractions, friendly people, and amazing crafts.
Bicolanos like to call themselves oragons, which means 'the best' because they are passionate about what they do and what they believe in. And this is evident in their arts and crafts, wherein indigenous materials such as nito, abaca, bamboo, pili shells, coconuts, and pineapple fiber are transformed into innovative world- class products.
Mallgoers had a glimpse of the best of the best in Bicolano crafts when My City, My SM, My Crafts recently made its fifth stop at SM City Naga. A joint project of SM, DTI's Bureau of Domestic Trade, and the Philippine Star with support from CITEM and the National Commission for Culture and the Arts, it is a celebration of traditional arts and modern Philippine design in the cities where SM has malls.
Naga City Congresswoman Leni Robredo and Mayor John Bongat led the prominent Nagueños who attended the event and proudly viewed their products. DTI Provincial Director Edna Tejada and Councilor Cecilia de Asis were also present.
SM officials led by SM Vice President for Marketing Millie Dizon, as well as SM City Naga Mall Manager Wesley Villanueva and Assistant Mall Manager Jeanette de Vera gave guests a warm welcome.
They enjoyed the program, which included a video presentation featuring the crafts of Naga with Aika Robredo, who won the Ramon Magsaysay Awards Essay Competition with her piece about her father, the late DILG Secretary Jesse Robredo. A classical string performance by Mark Oliquiano and James Reburiano also delighted the audience.
One of the program highlights was the awarding of the winner of the Pili Shell Vase Making contest with workshop participants in competition. Corazon Milano's elegant design accents got the judges' nod for the top prize, for which she received P5,000 worth of gift certificates.
Judges included DTI Camarines Sur Director Edna Tejada, NCCA Southern Luzon Representative Carlo Arejola, and SEDP Operations Manager Grace Corteza.
But the My City, My SM, My Crafts centerpiece was clearly the Craft Market inspired by the traditional Bahay na Bato in Luzon. This beautifully designed showcase was a treasure trove of the best of the best crafts in the province, and was an instant hit among SM City Naga shoppers.
The Craft Market included exquisite nito furniture and lamps from Natural Carpet Industries; innovative bamboo furniture and tilob products from La Mode Industries; and cosmopolitan, space-saving, and multi-functional pieces from Nitz Furniture.
Delicate piña silk clothes and fans by the Labo Progressive Multi Purpose Cooperative, and pili shell lamps and home furnishings by Artemio Perol revealed how artistic Bicolanos can be. Abaca home furnishings from JM Handicrafts and The Rains, banig and bags making from the Socio Economic Development Program Multi-Purpose Cooperative, delicately molded terra cotta pottery from Philceramics, and papier mache Floral and Art Creations, on the other hand, showed the diversity of Bicolano crafts.
My City, My SM, My Crafts is a take-off from the previous My City, My SM campaign, which promotes tourism, and My City, My SM, My Cuisine, which highlights the culinary specialties in cities were SM has malls.
A celebration of traditional arts and modern Philippine design, it aims to showcase the best of the best Philippine crafts in each host city, providing livelihood opportunities, as well as a platform for cultural exchange.
The Naga launch is the fifth in the My City, My SM, My Crafts road show after SM City Santa Rosa, SM City Lucena, SM City Batangas, and SM City Davao. The next stop will be in SM City Cagayan de Oro.