BULI, BALISONG, AND BURDANG TAAL IN BATANGAS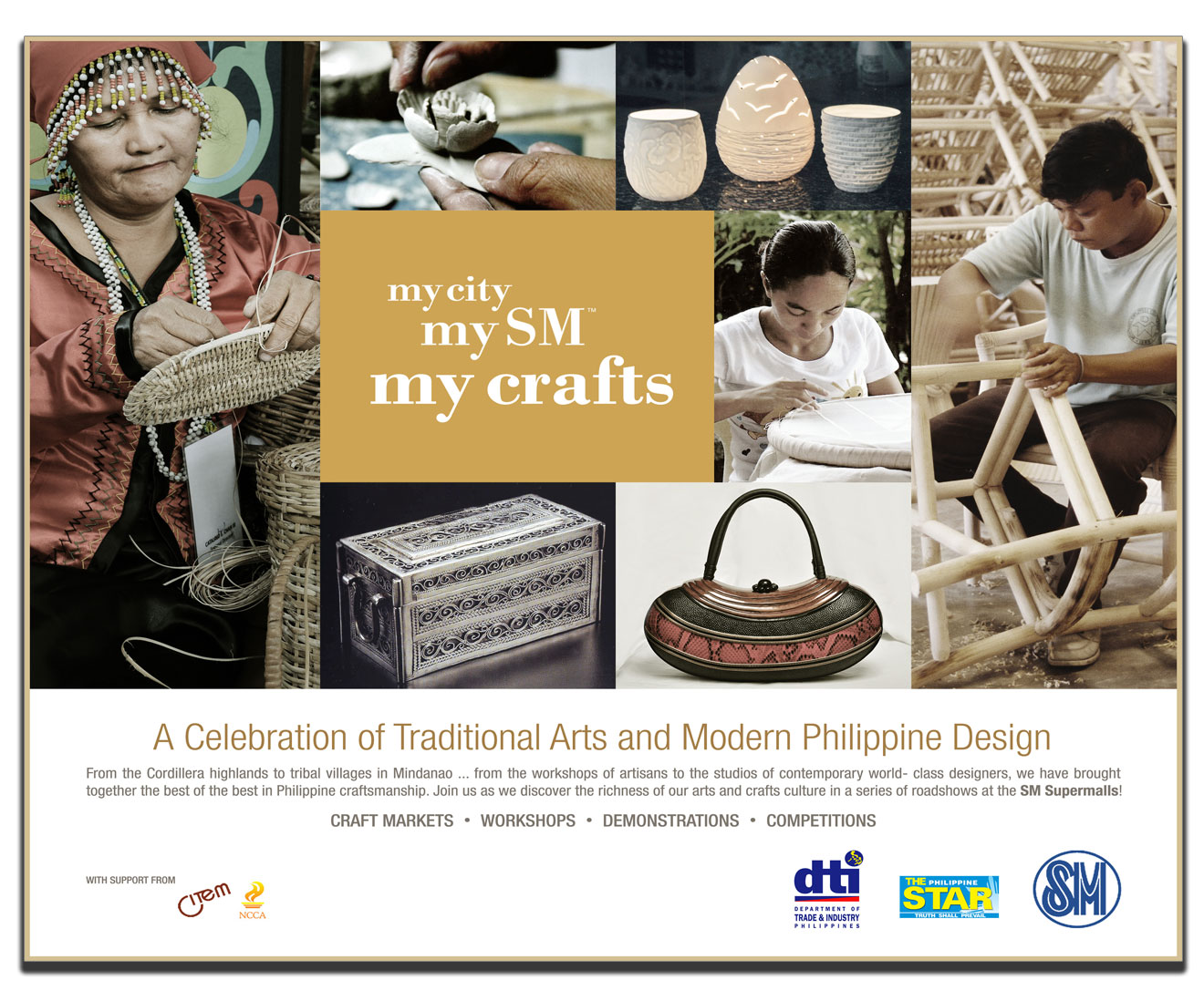 Batangueños are called Super Tagalogs – a term coined by historian Maria Kalaw Katigbak to describe their rather over-the-top way of doing things. In Philippine mythology, the first man and woman, Malakas and Maganda, emerged from bamboo. But Batangueños went one step further – they have a very prosperous bamboo based industry with houses, furniture, and even food cooked in bamboo.
Just as they are passionate about their history and business, Batangueños are also passionate about their arts and crafts.
From buli weaving in Isla Verde to balisong making and intricate embroidery in Taal to handmade paper crafts and sugarcane leaf décor in Tuy to handmade decorative candles in Calatagan to religious images in Santa Teresita, Batangas has so much to be proud of.
This is what mallgoers discovered when My City, My SM, My Crafts recently made its third stop at SM City Batangas. A joint project of SM, DTI's Bureau of Domestic Trade, and the Philippine Star with support from CITEM and the National Commission for Culture and the Arts, it is a celebration of traditional arts and modern Philippine design in the cities where SM has malls.
No less than Batangas City Mayor Eddie Dimacuha and his wife, former Mayor Vilma Dimacuha graced the event together with Ms. Nora Montenegro, wife of Taal Mayor Michael Montenegro and DTI Batangas Provincial Director Ruel Gonzales. The Department of Tourism's Batangas Provincial Head Emily Katigbak and Batangas City Head Eduardo Borbon, as well as Batangas Province Cultural and Historical Commission Executive Director and My City, My SM honoree Atty. Antonio Pastor were also present.
SM officials led by SM Vice President for Marketing Millie Dizon, as well as SM City Batangas Mall Manager Lyn Gabriel gave guests a warm welcome.
They enjoyed the program, which included a video presentation featuring the crafts of Batangas with Batangas City's Executive Secretary to the Mayor Atty. Reginald Victor A. Dimacuha as the guide, and a reading of the poem Batangueno Ala Eh, Ala Hoy by multi awarded writer, poet, and novelist Domingo Landicho. A fashion show featuring exquisite burdang Taal gowns and barongs and directed by Fashion Designers Association of the Philippines President Lito Perez likewise amazed the audience.
One of the program highlights was the awarding of the winner of the Best Buli Fan contest with workshop participants in competition. Melanie Cachola's butterfly fan got the judges' nod for the top prize, for which she received P5,000 worth of gift certificates.
Judges included world-renowned filmmaker Brillante Mendoza, Taal tourism advocate Dindo Montenegro, visual artist Michael Semana, and DTI Batangas's Marissa Argente.
But the My City, My SM, My Crafts centerpiece was clearly the Craft Market inspired by the traditional Bahay na Bato in Luzon. This beautifully designed showcase was a treasure trove of the best of the best crafts in the province, and was an instant hit among SM City Batangas shoppers.
The Craft Market included buli banig, baskets, and bags woven by the women of Isla Verde; expertly handcrafted balisong from Taal; elegant burdang Taal pieces; religious images from Santa Teresita; handmade decorative candles from Calatagan; and handmade paper crafts and sugarcane leaf décor from Tuy.
Craft demonstrations by skilled balisong makers and traditional burdang Taal embroiderers likewise delighted mallgoers.
My City, My SM, My Crafts is a take-off from the previous My City, My SM campaign, which promotes tourism, and My City, My SM, My Cuisine, which highlights the culinary specialties in cities were SM has malls. A celebration of traditional arts and modern Philippine design, it aims to showcase the best of the best Philippine crafts in each host city, providing livelihood opportunities, as well as a platform for cultural exchange.
The Batangas launch is the third in the My City, My SM, My Crafts road show after SM City Santa Rosa and SM City Lucena. The next stop will be in SM City Davao.